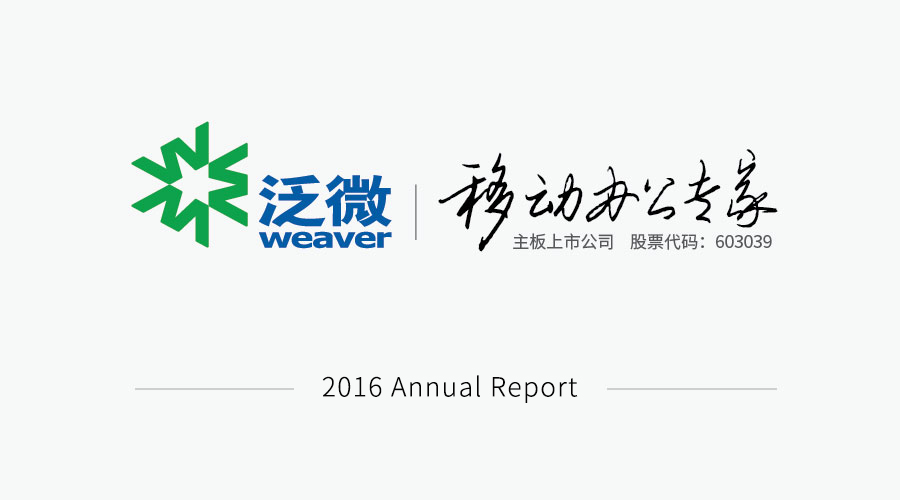 After over one decade development, the OA industry has welcomed its first public listed company in January 2017: Weaver Network Technology Co., Ltd (stock code: 603039) listed in China Shanghai Stock Exchange which has unveiled a new turning point of the OA industry.
Today, Weaver releases its first annual report after the listing. "Solid, Steady, Fast" can be concluded from Weaver 2016 annual report. Let's look at Weaver's 2016 major financial statistics.
| Operation Statistics Analysis of Fiscal 2016
operating revenue reached RMB 461.31 million, a year-on-year growth of 45.56%;
net profit amounted to RMB 65.22 million, a year-on-year increase of 29.4%;
net cash flow increased to RMB 122.82 million,a year-on-year growth of 20.8%;
account receivables decreased to RMB 29.148 million, descending 12.6% compared to the beginning of the period;
advanced payment reached RMB 317.39 million, increasing 28.8% compared to the beginning of the period;
From the above statistics, we can see the highlights of Weaver's solid foundation and rapid growth momentum are as follows:
1. The company's net cash flow is nearly twice the profit, reached more than ¥120 million which is rare in the software industry.
2. The income reached ¥460 million, but only ¥29 million is account receivables decreased 12.6% compared to the beginning of the period. The rapid growth of revenue and the rapid decline of receivables show high satisfaction from clients, and good quality of company's products.
3. The advanced payment reached nearly ¥320 million shows the there is a large amount of new clients choosing our products which can ensure our future performance.
4. The entire revenue generates from projects without any capitalization, so the revenue and profits amount is reliable;
| Recent 4-year Financial Situation

We abstract the following statistics from Weaver's prospectus and 2016 annual report:



We can see that: nearly 30% annual increase of revenue, profit, and cash flow highlights the "solid, steady, fast" development characteristics of Weaver.
In addition, we have witnessed the appreciable revenue growth from our regular clients (the main maintenance and upgrade fees): increasing to ¥112 million in 2016 from over ¥40 million in 2013 which shows high satisfaction of our regular clients; In addition,with the increased revenue from and amount of our loyal clients, Weaver will witness a greater development in the future.
| Investment on Innovation and R&D
Products are fundamental to software companies! Weaver has invested ¥63.74 million on R&D, accounting for 14% of the business revenue and R & D investment has been kept at a high level. The recent four-year investment is as following:



From the above table, we can see the four-year R&D investment amounts to ¥200 million, whichexplains why Weaver can lead industry development.


Weaver's product line includesa whole series of collaborative management and mobile office software products targeting large, medium and small size organizations namely e-cology, e-office and eteams.
OA private cloud deployment product (e-cology / e-office) keeps leading the industry. Weaver has also gained rapid development of the public cloud OA product (eteams.cn). We can imagine in the future Weaver can take advantage of our superiority in the OA industry. The product solutions based on public cloud, private cloud and mixed cloud can not only meet the demands of large and medium size companies for deep and complex applications and also the demands of middle and small size organizations for utilizing the flexibility and convenience of Internet and connecting widely.
R&D ability is the key for Weaver to maintain the leading role in the industry. And Weaver's continuous investment in R&D ensures its leading role in the OA industry.
| Outward Investment & Strategy Analysis
Through the holding subsidiary Shanghai Dianjia Venture Capital Co., Ltd, Weaver has invested in three companies, namely Shanghai Jiuyi Software Technology, Daniujia and Qiyuesuo.
1. Shanghai Jiuyi Software Technology: enable to integrate applications among the heterogeneous systems such as OA, ERP, CRM and HRM;
2. Daniujia daniujia.com: connect to external experts and form an external think tank for enterprises;

3. Qiyuesuo qiyuesuo.com: electronic signing contract and cloud certificate depository platform;

Deeply think about the strategic significance of the three investment projects: OA has now become an important platform for the heterogeneous system integration of organizations, then in the OA platform, you can directly find external experts to work together and also sign electronic contracts with clients, suppliers and distributors so as to achieve the internal and external collaboration of business management.
We are looking forward to this strategic investment, because the organization needs a "unified work platform" to integrate all heterogeneous systems. The key for an organization lies in how to achieve collaboration between the internal and external system.
From many-year financial statistics and strategic investment analysis, we can conclude that Weaver has always followed the principle of "Specific and Exactness decides success or failure",and had the original ideas and implemented strictly which have contributed to the healthy and sustainable development of company.
At last, the deep development of mobile Internet applications will generate a bigger OA market. Now, Weaver is vigorously promoting the new generation of "mobile, intelligent, cloud" OA software which will inject a strong impetus to our main business development; at the same time, it's better for Weaver to utilize capital to seek horizontal development (electronic contract, statistics analysis, security control, company think tank and etc )and longitudinal development (industry, specialization, cloud and etc) so as to make our products become the best choice of mobile connectivity applications for governments and companies.